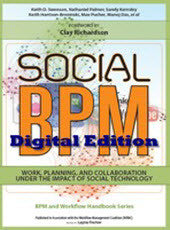 Social BPM Digital Edition
Retail Price : $ 59.95
Your Price : $ 29.97
You Save : 50 %
Social BPM Digital Edition
Click Here for Print Edition of this book
Business Process Management and
collaboration

are, by their very nature, social activities.  Buy now on Kindle

The collaboration and communication patterns that are now increasingly referred to as "social computing" were also fundamental to the BPM and workflow models of the early 1990s.  Yet it has been the recent explosion of social computing and accompanying success of social production, from Linux to Wikipedia, and Facebook to Twitter, which has the most dramatic impact collaboration in business environments. 

Today we see the transformation of both the look and feel of BPM technologies along the lines of social media, as well as the increasing adoption of social tools and techniques democratizing process development and design.  It is along these two trend lines; the evolution of system interfaces and the increased engagement of stakeholders in process improvement, that Social BPM has taken shape.

As explained by WfMC Fellow Dr. Michael zur Muehlen, "If you only focus on streamlining process execution and making it as efficient as possible the social aspect diminishes. But if you consider process discovery, the development of a shared understanding of what your operations look like, and monitoring your process environment, then social plays a big role. Social is all about providing context, a rich environment of data points that a streamlined workflow would be lacking otherwise. The challenge is to make this context useful, both from a social networking perspective and from an unstructured data perspective." 
Table of Contents
Foreword
Clay Richardson, Senior Analyst, Forrester Research
The Quantum Organization:
How Social Technology will Displace the Newtonian View
Keith Swenson, Vice President of R&D, Fujitsu America Inc.

We find ourselves standing on the crux of a change so profound that it will affect every aspect of our working lives. It is a change in the very way that we think about organizations and how people interact within organizations.
While this book is about technology that is used in the workplace, the root of the change is not a technological one. It is a change in how organizations work. The old way of viewing the workings of an organization was founded in the revolutionary ideas of Newton and Descartes, which brought about organizational structure in the Industrial Revolution. But Industrial Revolution ideas are being replaced by InformationRevolution ideas, and management is feeling a crisis similar to that felt by physicists when the Newtonian view of the universe was replaced by a quantum view of the universe. We can use this shift in the field of physics as a parallel that illustrates the same kinds of changes that management science and information technology are seeing today.
The Role of Trust and Reputation in Social BPM
Nathaniel Palmer, Executive Director, WfMC
Voice of the Network Through Social BPM
Setrag Khoshafian, VP of Product Marketing and BPM Technology, with Patrick Tripp, Steve Kraus, Pegasystems Inc.
BPM, Social Technology, Collaboration and the Workplace of the Future
John Flynn, Head of Innovation and Strategy, Process Tech Ltd. UK
Scaling a BPM Initiative into an Enterprise Transformation with Social Collaboration
Sandy Kemsley, Independent Analyst, Kemsley Design
How to Link BPM Governance and Social Collaboration with an Adaptive Paradigm
Max Pucher, Chief Architect, ISIS Papyrus Software
Change Management Processes
Keith Harrison-Broninski, CTO, Role Modellers
Dynamic Clinical Pathways – Adaptive Case Management for Medical Professionals
Roy Altman, CEO, Peopleserv, Inc., and Kenneth Altman MD PhD FACS. Associate Professor of Otolaryngology, The Mount Sinai School of Medicine
Next Generation BPM Suites: Social and Collaborative
Manoj Das, Director of Product Management and Linus Chow, Principal Consultant and BPM Evangelist, Oracle
Engineering Social BPM applications with a Model-Driven Approach
Marco Brambilla, Professor and Researcher, Piero Fraternali, Professor, and Carmen Vaca Ruiz, PhD Student, Politecnico di Milano
Evidence Based Improvement – Listening to Customers to Improve Customer Service Processes
Vikas Nehru, VP Product Marketing and Ajay Khanna, Sr. Director Product Marketing, KANA
How Social Technologies Enhance the BPM Experience for All Participants
Steve Russell, SVP Research and Development & CTO, Research & Dev / R & D, Global 360
Next Generation Social Media: Alignment of Business Processes & Social Intelligence
Vinaykumar Mummigatti, Vice President and Global Head - BPM Practice, Virtusa
A Case Study of BPM in a Kaizen Environment
Ted Roper, Quality Manager, Ford Motor Company
Social Technology Makes the World a Better Place: Pro Bono BPM
Annelize Booysen, Financial Director and Michélle Booysen, Managing Director, Pétanque Consultancy
Taking Channel & Distribution Management "Social and Contextual"
Ram Ramdas, Co-founder and CEO, Herald Logic and Jay Pullur, co-founder and CEO of Qontext, USA
BONUS CHAPTER (not available in Social BPM Print Edition!)
Smart Business Process Management 
Dirk Draheim, University of Innsbruck, Austria
Now is the time that IT governance stakeholders start to think about enterprise application integration really strategically, top-down, instead of techno-logically, bottom-up. We foresee a completely new quality of IT to support the value-adding processes in modern enterprises by the systematic integration of BPM technology, knowledge management technology and social software. In excellent enterprises, all the value-adding processes, both the formal and strictly organized and the informal and social, are subject to management and IT support. We want to characterize a conceptual level of thinking about IT integration and we use the term smart business process management for this. We give three examples, where the smart business process management perspective can help to design a new quality of IT support in modern enterprises: smart business continuity management, smart IT service management and smart production.
DIRECTORIES AND APPENDICES
WfMC Structure and Membership Information         
Glossary of Social BPM Terms           
Author appendix
Index
Further Reading: BPM and Workflow