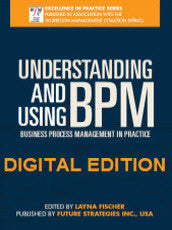 Understanding and Using BPM (Digital Edition)
Retail Price : $ 39.95
Your Price : $ 34.97
You Save : 12 %
Understanding and Using BPM (Digital Edition)
For a limited period, get this book and TWO more for FREE: $120 retail value!
Authored by: Garth Knudson, Mark McGregor, Ken Mei, Nathaniel Palmer, Keith Swenson, Steve Towers, Jaisundar Venkat, Jon Pyke et al
Some organizations significantly outperform others in their industry. They become more agile by adopting smarter work practices and transforming their business processes to be more dynamic, collaborative, and connected.
Often, the business processes themselves create competitive advantage. Increased revenue at reduced cost makes more money for a very effective business. Changing market opportunities, customer demands, new technology and calls for cost reduction can make it seem impossible to keep operational chaos at bay. Competitive advantage is gained when companies reduce operational risk by making sure that internal guidelines and external regulatory requirements are fulfilled. Companies thus offer customers a faster, more accurate and consistent service.
To position your organization for success, you need the ability to continually optimize, streamline and align business processes to meet changing business needs for greater performance, competitive advantage and to drive growth.
The section, Using BPM provides compelling award-wining case studies. These companies have proven excellence in their creative and successful deployment of advanced and business process management concepts. The positive impact to their corporations includes increased revenues, more productive and satisfied employees, product enhancements, better customer service and quality improvements.
Using BPM for Competitive Advantage
Examples of potential benefits include: productivity improvements; cost savings; increased revenues; product enhancements; improved customer service; improved quality; strategic impact to the organization's mission; enabling culture change; and—most importantly—changing the company's competitive position in the market. The visionary focus is now toward strategic benefits, in contrast to marginal cost savings and productivity enhancements.
While successes in these categories are prerequisites for winning a Global Excellence Award, it would reward all companies to focus on excelling in innovation, implementation and impact when installing BPM and workflow technologies. Companies must recognize that implementing innovative technology is useless unless the organization has a successful approach that delivers—and even surpasses—the anticipated benefits.
Contents and Chapter Abstracts
Understanding BPM
How to Ensure a Successful BPM Project
Garth Knudson, BizFlow, USA
This chapter describes the critical questions to ask in preparation for a BPM implementation. The author details exactly the business and technical requirements that must be gathered to result in a proper specification. The goal of the exercise is to have documented comprehensive requirements that eliminate any doubt around objectives and expectations. The art and science of asking questions becomes crucial to finishing projects on time and under budget. This chapter provides a must-have checklist for every stakeholder in the BPM Project.
7 Steps to Business Architecture
Mark McGregor, USA
Business Architecture is a key decision tool for organizations and could be thought of in a similar way as GPS systems - being a "Navigation System for Business." It allows static blueprints to be transformed into dynamic models for greater insight than ever before. With business managers in the driver's seat, different questions will be asked from the traditionally technical ones normally associated with EA. In order to support these questions a different approach to tools and solutions will be required.
Business Architecture is a key decision tool for organizations and could be thought of in a similar way as GPS systems - being a "Navigation System for Business." It allows static blueprints to be transformed into dynamic models for greater insight than ever before. With business managers in the driver's seat, different questions will be asked from the traditionally technical ones normally associated with EA. In order to support these questions a different approach to tools and solutions will be required.
The Four Waves of Process Management
Steve Towers, BPGroup, UK
If we take a modern historical perspective we can see four distinct recent waves of process transformation, each wave progressively bringing us greater business benefit (lower costs, growing revenues, improving service and achieving compliance) and improved alignment to customer success. The author examines each wave of development in turn.
BPM Change Management: Some Considerations
Jaisundar Venkat, Wipro
As Business Process Management (BPM) becomes more mainstream and its adoption increases, the list of key factors that typically contribute to its failure as well as success are becoming more and more apparent.
Interestingly, one factor common in both lists is Change Management. The reason that it figures in both lists is because, not only can poorly addressed change issues lead to failure, but a well-managed change plan can actuallyescalate the degree of success from BPM. Change issues threaten and impact BPM implementation success much more than we would care to admit.
Challenges along the BPM life-cycle are real and the nature of change can be complex. Being essentially about 'process change' automatically makes BPM initiatives very susceptible to challenges that come from causing a sort of disruption to people and their working styles. Many BPM initiatives also tend to span across multiple departments and functional teams making change even more challenging.
This paper discusses how a well-thought out Change Program can complement a BPM initiative and actually help in fostering collaboration and teamwork required along the stages of the BPM lifecycle by introducing a more positive influence on the outcome. Fundamentally though, there are some very crucial elements or hotspots if you would like to call it, that need to be appropriately addressed to ensure the Change Management program supports BPM optimally.
Disruptive Mobile Technologies Help Asia Gain Competitive Process Advantage
Kenneth Mei, Kodak Services for Business Asia Pacific Region, Hong Kong
This chapter looks at the gains being made in the Pacific Rim area with regard to BPM and workflow. In the global economy today, Asia has fast become a key player in the world market, with China and India leading the stage. We will examine in particular how Asia turns a disruptive factor into competitive process advantage: Mobile Technologies. 
Asia is fast becoming a key player in the world market, with China and India leading the stage, with various unique factors in the region is helping Asia gain competitive advantage through process improvement.
Some of the process changes are not minor ones, but a quantum leap paradigm shift of how business are conducted. For global 500 enterprises and government agencies, rules and compliances still dictate many of the decisions around innovation. However, for the Small Medium Business (SMB), where competitiveness means survival, they often do whatever they must to improve their processes, with faster results, cheaper costs and better bottom line margins. This paper explores what enterprises in Asia are doing to achieve the objectives.
Avoiding Fragility in Innovative Learning Organizations
Keith D Swenson, Fujitsu America
Do you conceptualize your organization as a machine? If so, you may be led down the wrong path for optimizing business processes. Machines are complicated, but truly complex systems, like an organization, a marketplace, an ecosystem, are not like machines. Evidence for this is both familiar and surprising. It is the "Enlightenment Bias" which blinds us to the true nature of organizations. If you want your organization to excel, you need to understanding the true nature of organizations, and the new generation of tools that are becoming available to support them.
Thriving on Adaptability: How Smart Companies Win in a Data-Driven World
Nathaniel Palmer, Business Process Management, Inc. (BPMI)
Whatever business you are in today, inevitably you face an environment defined by growing uncertainty and unpredictability, where advantage favors not the best plans but the speed of change. Yet in the face of constant change, competitive advantage is derived not simply from the flexibility to move with the tide, but rather from having the intelligence to interpret the signals that indicate where the tide is headed, and the capability to proactively move in that direction. In this way, we see the much-lauded trait of "agility" (defined generally as "the ability to change") as being necessary yet insufficient. Rather it is "adaptability" which enables sustainable competitive advantage – the ability to not only do new things well, but also identify what to do and how to do it.
Business Process as a Service: Enterprise Cloud Computing
Jon Pyke, CIMtrek, United Kingdom
The big buzz at the moment is around Enterprise Cloud Computing (ECC) and its impact on processes and the management of processes. ECC is the special case of utilizing Cloud computing for competitive advantage through breakout opportunities for both cost savings and, more importantly, for business innovation in terms of unprecedented speed and agility and vastly improved collaboration with business partners and customers. Once you understand what ECC is, there is a far more important question; why does it matter? The author discusses three key points that define why ECC matters to the world of BPM and where the competitive advantage kicks in
Using BPM: Award-winning Case Studies
Abu Dhabi Department of Transport, Abu Dhabi, United Arab Emirates
Gold Award, Nominated by United Arab Emirates DoT
The Abu Dhabi Department of Transport (DoT) began their project in late 2010 with a view to developing a ROW section and Online NOC System to launch in 2011. As outlined in this document the main objective was to significantly improve the application process required to obtain the Departments approval for third parties to undertake work within the Right of Way (ROW) – which is defined as being the road corridor from property boundary to property boundary.
The system has been operational since late 2011 and continues to be enhanced by the project team. The system stands out as the first multi-lingual online NOC application process system in the Middle East.
CNP Asfalistiki Ltd., Cyprus
Finalist, Europe. Nominated by Newgen Software Technologies
CNP Asfalistiki Ltd has the largest market share of General Business within the Cyprus Insurance Industry and has branches all over Cyprus. The CNP Asfalistiki Ltd., Company was incorporated in 1981 as a subsidiary of Cyprus Popular Bank Public Co Ltd (CNP Asfalistiki Ltd Bank). Since January 2009 there has been a 'Strategic Partnership' between Cyprus Popular Bank Public Co Ltd (CNP Asfalistiki Ltd Bank) and the French Insurance Group CNP Assurance. The strategic partnership aims to consolidate its leading position in the Cyprus Insurance Market and to further improve the quality of services, utilizing the dynamics and experience of CNP Assurances.
An important factor in the success of the CNP Asfalistiki Ltd Insurance Company is the constant effort of the company to adopt the possibilities offered by modern technology and professionalism, education, knowledge of the staff and the excellent services it provides in conjunction with a wide network of partners-dealers across all cities in Cyprus.
Colpensiones, Colombia
Gold Award, South and Central America, Nominated by Bizagi
Since 2007, as part of the reform of the Colombian social security system, the government has been working on the modernization and improvement in efficiency and service of the pension system. This was previously under the management of an entity with innumerable problems of information management, quality of service, out dated technologies and slow processes. The national government, therefore, took the decision to close the old pension system, known as the "Instituto de Seguros Sociales" (ISS) and create a new entity called Colpensiones, which would have efficient and secure information systems to improve user experience and become a financially viable entity.
Colpensiones decided to implement a BPM project among the solutions used by the organization to achieve its goals. The project enables us to automate more than 115 business processes in the first stage and 200 at a second stage to support more than 800,000 cases and 4,000,000 transactions per month.
Fire Department of the City of New York (FDNY)
Silver Award, North America Nominated by Oracle
The Fire Department of the City of New York (FDNY) is the second largest fire department in the world, with over 15,000 personnel responding to over 4 million calls for public safety responses in a year. Efficient use of resources is essential not only due to the austere financial environment, but also to improve public safety in one of the largest cities in the world. Unnecessary and unwarranted alarms (coded as 10-35 responses) transmitted by building alarm systems create unnecessary costs, delay valuable resources, and endanger public safety. As a result, building owners are issued Notices of Violations (NOVs). Formerly, the 10-35 violation process was manual, with little accountability and enforcement action.
This resulted in most 10-35 alarms having no enforcement activity. Issuance of NOVs provides incentive for compliance with Fire Code requirements to properly maintain alarm systems. NOVs, which impose penalties for non-compliance, with an increase in penalty amounts for repeat violations assist FDNY to enforce prevention of this problem. However, enforcement was limited because the previous manual process was lacking. Lack of enforcement led to delays in building owners fixing problems with their alarm systems and FDNY was left with an ineffective enforcement tool to reduce unnecessary and unwarranted alarms. This case study describes how FDNY dramatically improved compliance and offset Department costs while enhancing audit control and compliance.
Generali PPF Holding B.V.
Finalist, Europe, Nominated by Bizagi, UK
Generali PPF Holding, with total assets under management of almost €15 billion and more than 13 million clients, recognized a need to enhance corporate risks insurance processes support and visibility. The goal of our project was to improve the management of corporate risks underwriting and foster best practices within member insurance companies. Generali PPF Holding comprises businesses in 10 countries and isamong the most important providers of life and non-life insurance in Central and Eastern Europe.
Mars Canada Inc.
Gold Award: North America Nominated by Bizagi Limited
The "Speed-to-Market" team at Mars Canada Inc. recognized the need to expand workflow capabilities as part of their product development team effort. Sitting firmly within the Supply Chain domain, the team identified some deficiencies in current practices and processes. In particular it was considered necessary to implement technology which would enable the team to achieve greater visibility and control over item set-up as part of the product development and innovation process. In a fast moving consumer environment many in-puts are necessary to drive product offerings and the Speed-to-Market teams need to respond, assess and control all aspects. Driven primarily by corporate directives, in the first quarter of 2012, the Canadian team decided to look at best practice approaches.
Globally, Mars Inc. benefits from a vast SAP implementation and any new initiative would have to consider if objectives could be met by extending SAP functionality or by introducing new technology to the mix. By this point, any process actions which had evolved were typically not currently fully catered for within existing ERP and were being increasingly managed manually by developing large functional spreadsheets with multiple hand-offs to other departments.
New Millennia Group PLC, UK
Silver Award: Europe Nominated by AuraPortal USA
New Millennia Group PLC's (NMG) business model operates within the £22 billion per annum United Kingdom temporary recruitment industry. Providing invoice funding, credit insurance, payroll and administration facilities to recruitment agencies operating nationwide. NMG have been working within this industry since 2000 and hold both trade body and government licences in order to operate. Their administration processes and government compliance issues are very complex and are susceptible to several major changes in any one year. NMG have a workflow cycle of seven days. It is imperative for NMG to complete their tasks within the allotted time as there is no margin for error or delays as the payments of the temporary workers depend on this.
SET Distribuzione, Italy
Special Mention: Europe. Nominated by WebRatio, Italy
In order to adapt to new legislation, SET Distribuzione, a company that operates in the energy and utilities industry and distributes electricity in the Italian region of Trentino Alto Adige, had to create a web application that would manage the procedure whereby private inhabitants producing energy are connected to the distribution network.
SET created, in accordance with the timeframes laid down by legal requirements, a BPM-based web application that has optimized the cost of managing the process in question, reducing costs by somewhere in the region of 300,000 euros a year while making the complex connection procedure some 40% quicker.
U.S. Immigration and Customs Enforcement, USA
Special Mention, North America. Nominated by BizFlow, USA
U.S. Immigration and Customs Enforcement (ICE) professionals deal with an inordinate amount of tasks to support their mission. Many of these are unstructured, dynamic activities, that are constantly evolving in process, people involved, and outcomes required. Unlike structured activities, dynamic activities are constantly changing, depending on what is asked for and who can help. Since these collaborative efforts are unscripted, ICE had limited visibility into what happened, who was involved and what decision criteria were applied. Project managers were having trouble tracking tasks and activity progress; it was essential to get a better handle on task management.

To address this challenge, the Office of the CIO (OCIO) at ICE chose a dynamic business process management (BPM) solution, BizFlow, as the foundation for their Task Management System (TMS), which enables project managers to track unstructured, one-time processes. The system improved visibility, control, accountability, and traceability. ICE is far more agile since the implementation of this system. Since the launch of the Task Management System, ICE has been able to improve organizational task workload by 53 percent; the system has enabled ICE/OCIO to reduce the staffing resources required to manage and track tasks by 50 percent. Key stakeholders have realized an increased pace in operations and efficiency since TMS was implemented.
Warner Bros. Home Entertainment, UK
Gold Award: Europe Nominated by Pegasystems Inc., USA
Warner Bros. Home Entertainment brings together all of the Warner Bros. businesses involved in the digital delivery of entertainment content to consumers. The company has the largest content library of any studio with more than 6,500 movies, 50,000 TV series and 15,000 animations. This library is continually growing with new content from Warner Bros. theatrical releases and other sources such as HBO. Based on its uniquely rich intellectual property and content (Superman, Batman and Tom & Jerry, are all titles), Warner Bros. distributes products across 90 territories and has the largest distribution infrastructure in the global video market. It is also the top U.S. studio with nearly 22 percent market share.
To support its core business of digital delivery, Warner Bros. deployed an innovative cloud-based solution that uses cutting-edge business process management (BPM) to streamline the organization's global supply chain. The impetus for the new solution came about because of how complex the Warner Bros. global supply chain was becoming. Put simply, this complexity poses more challenges to manage and control. This case study describes the success of their BPM implementation.