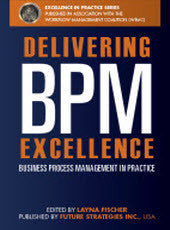 Delivering BPM Excellence Print Edition
Retail Price : $ 39.95
Your Price : $ 29.95
You Save : 25 %
Delivering BPM Excellence Print Edition

Click Here for Digital Edition of this book
Table of Contents
Guest Chapters
Business Process as a Service: Enterprise Cloud Computing
Jon Pyke, CIMtrek, United Kingdom
The big buzz at the moment is around Enterprise Cloud Computing (ECC) and its impact on processes and the management of processes. ECC is the special case of utilizing Cloud computing for competitive advantage through breakout opportunities for both cost savings and, more importantly, for business innovation in terms of unprecedented speed and agility and vastly improved collaboration with business partners and customers.
Once you understand what ECC is, there is a far more important question; why does it matter? The author discusses three key points that define why ECC matters to the world of BPM and where the competitive advantage kicks in.
The Difference Between BPM and Adaptive Case Management
Nathaniel Palmer, WfMC, USA
In the half-century since Peter Drucker first identified and coined the phrase "knowledge worker," the share of the work force represented by this group has grown considerably, to as much as half of all workers by some measures. So, too, have grown investments targeting knowledge worker productivity, with global IT spending reaching $4.35 trillion in 2010, according to Global Technology Index author Dr. Howard A. Rubin.
Yet we are far from realizing the level of improvement seen in manual labor over the course of the last century. Traditionally, IT investments targeting business productivity have focused on one of two areas. The first is automation technologies, such as enterprise resource planning (ERP) or the more contemporary technology of business process management (BPM). Those address repeatable, predictable modes of work and are designed to enforce a command and control management model, where efficiency gains are sought through standardizing how work is performed.
Advantages of Agile BPM
Keith D. Swenson, Fujitsu America Inc., USA
Agile BPM represents the next generation of business process management—designed to flexibly address all types of processes to support all forms of work. It combines traditional Business Process Management (BPM) style predefined processes, along with Adaptive Case Management (ACM) style dynamic work support.
Agile BPM is designed to flexibly address all types of processes used to conduct business: structured, unstructured, and hybrid process types to support all forms of work.
In recent years many organizations have come to the understanding that their business processes are proprietary business assets that can yield competitive differentiation and advantage. This recognition has led to the adoption of first-generation BPM technologies to automate fixed, repetitive processes for efficiency and cost-effectiveness.
The author discusses how the next generation of BPM, Agile BPM, will incorporate product capabilities that extend well beyond the system integration and fixed process automation initiatives that characterized first-generation BPM.
Business Driven Architecture: Combining BPMN 2.0 and Semantic Technologies
Ralf Mueller, Linus Chow, Jean Prater, Oracle, USA
A business process management (BPM) suite includes tools for business analysts and developers to use in modeling entities, such as business processes, business rules, human workflow, and complex events. Modern BPM operates using the common tenants of an underlying Service Oriented Architecture (SOA) runtime infrastructure based on the Service Component Architecture (SCA) and supports the BPMN 2.0 OMG standard. Oracle BPM is a comprehensive, preintegrated, and hot-pluggable example of such a suite for dynamic businesses.
This paper presents an ontology for BPM based upon BPMN 2.0, Service Component Architecture (SCA) and the Web Ontology Language (OWL 2). The implementation of this ontology supports a wide range of use cases in the areas of process analysis, governance, business intelligence and systems management. It also has the potential to bring together stakeholders across an enterprise, for a true agile end-to-end enterprise architecture. We start with a 90-day Proof of Delivery conducted for the DoD DCMO in 2011.
Section 1: Europe
epa connect GmbH, Germany
Finalist, Europe, Nominated by Adobe Systems Inc., USA
epa connect GmbH supports the technology systems for its sister company, impuls Finanzmanagement, a market leader in independent consulting and procurement of private health insurance contracts. Several complex processes are involved with impuls Finanzmanagement's day-to-day business as the company compares offers from several insurance companies, analyzes the coverage and calculates price-performance benefits. The company also guarantees acceptance by the insurance companies from which they receive offers and provides advisors who council customers through the whole process.
Instituto de Crédito Oficial (ICO), Spain
Gold Award: Europe. Nominated by BizAgi, United Kingdom
Due to the severe crisis that the global financial sector recently faced, the small and medium sized companies (SMBs) in Spain experienced limited access to their normal lines of credit. This represented a serious threat to the sector that generates the most employment in that country. As a response to this challenge, the Spanish government decided to provide, through the Instituto de Crédito Oficial (ICO) the Financial Facilitator, an analytical and consulting tool that facilitates access to the small and medium sized companies and the self-employed, to sources of finance enabling them to undertake their corporate and professional projects.
LSC Group, Babcock & Ministry of Defence, UK
Silver Award: Europe. Nominated by TIBCO Software, USA
During 1999, the UK Ministry of Defence (MoD) Submarine Support Integrated Project Team (SubIPT) was faced with the issue of the cost of submarine ownership and in partnership with Babcock (then DML) set out to realize significant programme savings during HMS Vanguard's 1st Long Overhaul Period Refuel (LOP(R)). One of several steps in achieving this objective was to establish a joint initiative between Babcock, SubIPT (MoD) and its chosen technology partner, LSC Group, to transform the business using workflow technology. To support this approach a Collaborative Working Environment (CWE) was developed by LSC Group to improve collaboration and communication between all stakeholders involved in the submarine refit across the UK. To transform the business the latest workflow technology was adopted to replace paper-based business processes and to enable much greater process integration with existing MoD and industry systems, thereby enabling efficiency and cost reduction.
Section 2: Middle East and Africa
Nokia Siemens Networks, Global Network Implementation Centers, United Arab Emirates
Gold Award: Middle East-Africa. Nominated by Appian, USA
Nokia Siemens Networks (NSN) is one of the largest telecommunications hardware, software and services companies in the world, with more than 60,000 people in over 150 countries. NSN offers a complete portfolio of mobile, fixed and converged network technologies as well as professional services (consulting and systems integration, network implementation, maintenance and care, and managed services) to more than 600 Communications Service Providers around the world.
NSN's initial foray into Business Process Management (BPM) was the award-winning "Zeus" project which thoroughly transformed its Consulting & Systems Integration division and delivered an estimated €6 million annual productivity savings. Based on this success, NSN has now deployed a sophisticated, pan-organizational BPM Program, leveraging and extending the success of "Zeus" through one of the most mature Center of Excellence organizations in the BPM industry.
Section 3: North America
United States Department of Energy Loan Programs Office
Gold Award, North America. Nominated by Accenture/HandySoft, USA
The primary mission of the U.S. Department of Energy (DOE) is to advance the national, economic and energy security of the United States. DOE's Loan Programs Office (LPO) was created to accelerate the domestic commercial deployment of innovative and advanced clean energy technologies at a scale sufficient to contribute meaningfully to this mission. LPO is able to accomplish its goals by guaranteeing loans to eligible clean energy projects (i.e., agreeing to repay the borrower's debt obligation in the event of a default) and by providing direct loans to eligible manufacturers of advanced technology vehicles and components. The LPO also has a fiduciary obligation to U.S. taxpayers, and must ensure that the loans and loan guarantees provided have a reasonable prospect of repayment.
Farmers Insurance Group, United States
Gold Award: North America. Nominated by Pegasystems, USA
To leverage the power of their many recent acquisitions, Farmers Insurance Group assembled a road map of activities encompassing more than 300 separate initiatives to be accomplished through cooperative efforts between business teams and IT. Farmers' challenge was integrating the technology of legacy customer services systems from their acquired companies and, in doing so, ensure a unified consistent standard of quality of customer service for all Farmers customers.
The road map provided the guiding vision so that existing technology investments could be further leveraged and that the most critical business needs could be met first. This provided immediate value to the business because of the relatively short time between concept and delivery. The result: drastic improvements in both productivity and customer satisfaction. Farmers also saw significant reduction in the time required for both training of new CSRs and adoption of the new methods. Finally the company experienced new higher levels of improved quality, accuracy, consistency and speed in the processing of claims.
Lincoln Trust Company, USA
Silver Award: North America. Nominated by Lincoln Trust Company, USA
Lincoln Trust Company constituted a BPM program in 2007 with the initial goals focused on operational efficiency and going paperless in our back office processes. The overall program has been widely acknowledged for its tremendous success and directly contributed to Lincoln Trust Company's survival in the face of the global financial crisis. This paper discusses the continuation of the program and specifically describes our experiences implementing one of our most evolved BPM processes to date.
Over the past year Lincoln Trust Company has faced a new, better, and very significant challenge—growth! One of Lincoln Trust Company's most strategic business channels has developed a partner channel that has resulted in a 100% increase in sales from last year and is anticipating 1000% increases in new plan establishment. Thrilled with the prospects, but concerned with the impact to new customers, staff, and budget, Lincoln Trust Company executive management decided to leverage our BPM competencies to achieve a vision to provide "white glove" treatment to our new customers, automate the process, and significantly reduce the need for additional staffing within the business unit.
Section 4: Pacific Rim
'us' - Utility Services; An Alliance between South East Water Ltd, Thiess Services and Siemens, Australia
Gold Award: Pacific Rim. Nominated by Interfacing Technologies Corporation, Canada
The 2009 executive team's strategic review of the 'us'—Utility Services IT projects identified an opportunity to increase the value that its projects were delivering by taking a more holistic approach. Many of our IT projects, as is likely the case in many companies, were very focused and delivered value to a single business group or function but not necessarily across the business. This reality was amplified in our case because we not only work across departments, but also across multiple companies within the Program Alliance. The review concluded that value would be significantly increased by integrating solutions across functions and business groups through a better understanding of our end-to-end processes.
In response to these findings, we established an innovative Business Process Management (BPM) Centre of Excellence (CoE) to 1) gain that understanding, and 2) integrate it into IT projects where appropriate. The CoE has positively affected several projects since its creation but the farthest reaching of them, and the focus of this study, is the Job Costing Improvement project. Herein referred to as Job Costing, the project has delivered reductions in cost and increases in data quality for financial and operational reporting through improvements across our core operations and maintenance processes.
IndusInd Bank, India
Silver Award, Pacific Rim. Newgen Software Technologies Ltd., India
IndusInd bank is among the first of the new-generation private-sector banks granted licenses in the mid-nineties, driven by the process of reform in the banking sector in India. The bank found out that there is a wide business growth potential for the various banking and security products along with other services it offered, provided they could become customer centric, scale up their operations and at the same time maintain cost efficiencies and targeted service levels.
The bank reaped huge benefits by tapping the growth potential through Newgen's scalable solution which enabled improved turn-around-times (TATs), enhanced operational efficiencies and adherence to regulatory compliance.
Section 5: South and Central America
Unimed Porto Alegre Medical Co-operative Ltd, Brazil
Gold Award, South America. Nominated by BPM Soluções, Brazil
Proper monitoring of the contractual instruments which govern relations between clients and providers is a prerequisite for the efficient management of an organization. Unimed Porto Alegre, the leading medical co-operative in the south of Brazil, recognizes the importance of optimizing the management of its contracts both with corporate clients and providers. Our priorities are standardization, monitoring, speed of response and risk reduction. Through the use of the BPM approach and the automation of processes we have been able not only to revolutionize the way in which we monitor and manage our contracts but also to open the way for a wide number of automation and optimization initiatives in other departments.
ArcellorMittal Foundation, Brazil
Silver Award, South America. Nominated by AuraPortal, USA
ArcelorMittal Foundation (AMF) is responsible for managing and sponsoring cultural projects for any local social organization interested in promoting them. As a result of its BPM initiative, within the Foundation, 100 percent of their project proposals can be submitted and evaluated via electronic forms. This represents an increase of 50 percent in the number of project responses. Also, a 50 percent reduction in the time to evaluate each proposal was achieved. As a result of this BPM initiative, which included a tightly integrated SOA environment, a new and improved AMF system was launched called the "CTRL Cultura" system.
Telecarrier, Panama
Silver Award: South & Central America. Nominated by PECTRA Technology Inc., USA
Created in the year 2000 with the purpose of commercially developing the Central America region by rendering services of International Data Center, data and voice transmission, basic telephone and long distance, wholesale, and Internet, Telecarrier is a leading company in the telecommunications industry within the LATAM region. At a technological level, proposals for customized development, and CRM (Customer Relationship Management) were analyzed as short–term solutions, or the adoption of a work philosophy based on process management, and the incorporation of BPM (Business Process Management) technology as a mid-term and long-term alternative; the latter having been chosen on account of its flexibility, scalability, and core-process traceability. 
The implementation of the project took twelve months, and it involved the whole organization as well as the CEO's full commitment, as it was a corporate project designed on five pillars on which the work was initially carried out.