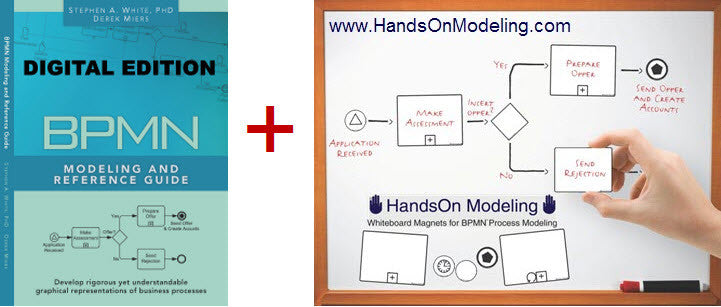 BPMN Modeling Guide Digital WITH FREE BPMN TEMPLATES
Retail Price : $ 39.95
Your Price : $ 34.97
You Save : 12 %
BPMN Modeling Guide Digital WITH FREE BPMN TEMPLATES
Develop rigorous yet understandable graphical representations of business processes
Stephen A. White, PhD
Derek Miers
This special digital edition includes FREE HandsOn Modeling BPMN Templates (Value $199) (see description below). Complete download file is 6MB zipped file containing PDF and WinWord Documents.
DIGITAL PLUS:
BONUS 1: The Digital Edition graphics are in color and the Table of Contents is hyperlinked direct to the chapters for easy navigation.
BONUS 2: The Digital Edition zipped file contains a separate PDF with the answers to the lessons posed in the book.

ABOUT BPMN
Business Process Modeling Notation (BPMN) is a standard, graphical modeling representation for business processes. It provides an easy to use, flow-charting notation that is independent of the implementation environment. An underlying rigor supports the notation facilitating the translation of business level models into executable models that BPM Suites and workflow engines can understand. Over recent years, BPMN has been widely adopted by Business Process Management (BPM) related products by both the Business Process Analysis and Modeling tool vendors and the BPM Suites.

This book is for business users and process modeling practitioners alike. Part I provides an easily understood introduction to the key components of BPMN (put forward in a user-friendly fashion). Starting off with simple models, it progresses into more sophisticated patterns. Exercises help cement comprehension and understanding (with answers available online). Part II provides a detailed and authoritative reference on the precise semantics and capabilities of the standard.

About the Authors: Renowned experts Stephen White (IBM) and Derek Miers (BPM Focus) have been involved in the development of the BPMN standard since the early days of BPMI.org. As Work Group chair and Specification Editor since its inception, Stephen White was instrumental in creating the BPMN standard and is now guiding its continuing refinement at the OMG. Derek Miers has played a leading role in the BPMN space first as Co-Chair of BPMI.org and more recently within the OMG. He delivers training and consulting worldwide around BPMN, Process Architecture and BPM in general.
 Note: The Free Templates (value $199) are available with purchase of this title only.
SPECIAL OFFER!

 

Total Retail Price: $114.95
Huge 39% Discount
You pay: $69.95
You Save: $45.00


Note: this bundle offer does NOT include the hands-on modeling templates.

Two Best Sellers - One Special Price!
Best Value for You. 39% Discount.
Only $69.95 for both BPMN books in one bundle.
You Save $45.00.

** LIMITED TIME SPECIAL OFFER**

When you buy the new BPMN 2.0 Handbook Digital Edition for only $69.95, you get the BPMN Modeling and Reference Guide Digital Edition(including Q&A tutorial) for free.

Click here for the Special TWO BPMN BOOKS BUNDLE.

You get two complete books in one bundle of 10MB zipped PDFs - the Reference Guide introduces you to BPMN and the new Handbook gives you the latest information on BPMN 2.0.
About the Templates
Engage the whole team in modeling discussions with this easy low-tech, high-touch way of hands-on modeling using printed magnets or self-sticking sheets printed with the standard graphical elements (or shapes) in the BPMN specification.

Work with your hands: Using the printed shapes of the elements allows an individual or a collaborative team to physically move the icons while discussing a new business model concept. In an interactive team environment you facilitate hands-on modeling and simulation of processes or systems to get group buy-in BEFORE you use your modeling software.

The graphic shapes come in two sizes: 6"x4" and 3.5" square, so they are easy for everybody in your group to see.
Note: Some knowledge of BPMN or Modeling Software is recommended when using these templates. 
When you buy the BPMN Modeling and Reference Guide, you will automatically get both the Core Set and the Full Set of the templates (38 unique elements) completely free, PLUS with the two valuable layout guides.
Print-ready artwork
You get 38 unique elements (Hi-Res JPG format) in two sizes of icons 3.5" square and 6"x4" rectangle divided into TWO sets:

The number in the filename indicates how many copies you should print of that shape to model a typical process.
Example: IE-Link-Throw-5.jpg means print 5 copies of this shape.
Core Set (most frequently used) of 14 unique elements which (printed to recommended quantity of each shape) produces 88 pieces.
Full Set (absolutely every element in the BPMN spec) of all 38 unique elements which produces 290 pieces of the recommended quantity.