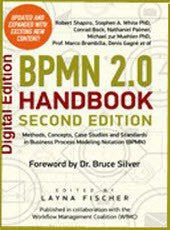 BPMN 2.0 Handbook Second Edition (DIGITAL)
Retail Price : $ 45.00
Your Price : $ 11.27
You Save : 75 %
BPMN 2.0 Handbook Second Edition (DIGITAL)
 Special offer to ADONIS COMMUNITY visitors!
Take an extra 20% off any book purchase by using discount code
ADONIS
on check out. Discount applies to ALL books in this bookstore, including already-reduced prices.
Click Here for Print Edition of this book
 (please contact us for details on corporate or academic distribution licenses or all or part of the book.)
Two Best Sellers - One Special Price! 
Best Value for You.

Only $69.95 for TWO BPMN books in one bundle. 
Total Retail Price: $114.95


Huge 39% Discount
You pay: $69.95
You Save: $45.00

** LIMITED TIME SPECIAL OFFER**



Best Value for You.


Huge 39% Discount!

When you buy the new BPMN 2.0 Handbook SECOND Edition (Digital)for only $69.95, you get the BPMN Modeling and Reference Guide Digital Edition (including Q&A tutorial) for FREE.

Download here: Special TWO BEST BPMN BOOKS BUNDLE.

You get two complete books in one bundle of 10MB zipped PDFs - the Reference Guide introduces you to BPMN and the new Handbook gives you the latest information on BPMN 2.0. Download both books now.
Authored by members of WfMC, OMG and other key participants in the development of BPMN 2.0, the BPMN 2.0 Handbook Second Edition assembles industry thought-leaders and international experts.
The authors examine a variety of aspects that start with an introduction of what's new and updated in BPMN 2.0, and look closely at interchange, best practices, analytics, conformance, optimization, choreography and more from a technical perspective.
The authors also address the business imperative for widespread adoption of the standard by examining best practice guidelines, BPMN business strategy and the human interface including real-life case studies. Other critical chapters tackle the practical aspects of making a BPMN model executable and the basic timeline analysis of a BPMN model.
In addition to free bonus chapters from the latest edition and extra material supplied by authors, the BPMN 2.0 Companion website contains BPMN and XPDL Verification/Validation files, webinars, videos, product specs, tools, free/trial modelers etc. This gives readers exposure to a larger resource on BPMN 2.0 and XPDL than a book alone can offer.
Table of Contents
Leading Authors: Robert Shapiro, Stephen A. White PhD, Conrad Bock, Nathaniel Palmer, Michael zur Muehlen PhD, Prof. Marco Brambilla, Denis Gagné et al
This book is for business people who want to understand the how and why of BPMN 2.0 in simple non-jargon terms and the strategy and motivation for its adoption within the corporation.

It is also for the technical practitioner seeking current insights into the BPMN 2.0 standard and how to take advantage of its powerful capabilities.
Foreword
Dr Bruce Silver, Bruce Silver Associates, USA

Introduction (free download 9 pages PDF, no registration required)
Layna Fischer, Future Strategies Inc. USA
SECTION 1—Guide to BPMN 2.0 Technical Aspects
New Capabilities for Process Modeling in BPMN 2.0
Stephen A. White PhD, International Business Machines, and Conrad Bock, National Institute of Standards and Technology, USA

New Capabilities for Interaction Modeling in BPMN 2.0
Conrad Bock, National Institute of Standards and Technology, USA, and Stephen A. White PhD, International Business Machines

Analytics for Performance Optimization of BPMN2.0 Business Processes
Robert M. Shapiro, OpenText, USA and Hartmann Genrich, GMD (retired), Germany

Making a BPMN 2.0 Model Executable
Lloyd Dugan, BPMN4SCA, USA, and Nathaniel Palmer, SRA International, Inc., USA

BPMN Extension for Social BPM
Piero Fraternali, Marco Brambilla and Carmen Vaca, Politecnico di Milano, Italy

Admission Process Optimization with BPMN and OSCO (Case Study)
Jack Xue, Butler University and Conseco Service LLC, USA

Addressing Some BPMN 2.0 Misconceptions, Fallacies, Errors, or Simply Bad Practices
Denis Gagné, Trisotech, Canada

Refactoring BPMN Models: From 'Bad Smells' to Best Practices and Patterns
Darius Silingas and Edita Mileviciene, No Magic, Lithuania

Simulation for Business Process Management
John Januszczak, Vice President, Meta Software Corporation, USA

Collaborative Activities Inside Pools
Michele Chinosi, European Commission Joint Research Centre, Italy

Bespoke Enterprise Architecture: Tailoring BPMN 2.0 using Conformance Classes
Dennis E. Wisnosky, Office of the Deputy Chief Management Officer, Department of Defense, and Michael zur Muehlen Ph.D., Center for Business Process Innovation, Stevens Institute of Technology, USA
SECTION 2—Guide to the Business Imperative for BPMN
BPMN and Business Strategy: One Size Does Not Fit All
Lionel Loiseau, BNP Paribas Personal Finance Process & Performance Analyst and Michael Ferrari, Analyst, France

BPMN for Business Professionals: Making BPMN 2.0 Fit for Full Business Use
Tobias Rausch, Harald Kuehn, BOC AG, Marion Murzek, BOC GmbH, Austria and Thomas Brennan, BOC Ltd, Ireland

Best Practice Guidelines for BPMN 2.0
Jakob Freund and Matthias Schrepfer, camunda services GmbH, Germany

Human-Readable BPMN Diagrams
Thomas Allweyer, Professor, University of Applied Sciences Kaiserslautern, Germany

Business Process Integration in a Defense Product-focused Company (case study)
Kerry M. Finn, Enterprise SOA Lead and J. Bryan Lail, Chief Architect, Raytheon Company, USA

BPMN Used by Business Professionals: An In-depth Reflection on BPM with BPMN by the Swiss FOITT
BOC: Christian Lichka, Diana Boudinova; FOITT: Jochen Sommer, Frank Wittwer

Multi-faceted Business Process Modeling
Marco Brambilla, Politecnico di Milano, and Stefano Butti, Web Models Srl, Italy
SECTION 3—Reference and Appendices
FREE DOWNLOAD of this important chapter (1.5mb PDF)
Reference Guide—XPDL 2.2: Incorporating BPMN 2.0 Process Modeling Extensions
Robert M. Shapiro, WfMC Technical Chair and XPDL Technical Committee, USA
XPDL2.2 is intended as a preliminary release which supports the graphical extensions to process modeling contained in BPMN2.0. In fact, the BPMN specification addresses four different areas of modeling, referred to as Process Modeling, Process Execution, BPEL Process Execution, and Choreography Modeling. In this reference guide, we focus only on Process Modeling. Within that we define several sub-classes to support process interchange between tools. This is discussed in a later section of this paper. Here we discuss significant additions in XPDL 2.2.
Appendices

XPDL Implementations
BPMN 2.0 Supporting Organizations
BPMN 2.0 Glossary
Authors' Appendix
Index
Further Resources and Reading