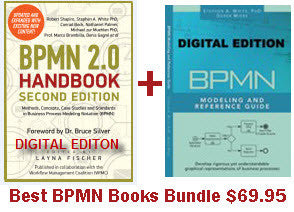 BPMN Best Books Bundle $31.95
Retail Price : $ 114.95
Your Price : $ 31.95
You Save : 72 %
BPMN Best Books Bundle $31.95
The BPMN BEST BOOKS BUNDLE just got even better! A massive new price drop from $69.95.
Now with BPMN 2.0 Handbook Second Edition (Retail $75) Digital version
Retail $114.95
Two Best Sellers - One Special Price!
Best Value for You. Huge 40% Discount.
Only $31.00 for both BPMN books in one bundle.
You Save $83.00 off the original sales price
** LIMITED TIME SPECIAL OFFER** 
When you buy the new BPMN 2.0 Handbook Second Edition Digital Version you get the BPMN Modeling and Reference Guide Digital Edition (including Q&A tutorial) for free.
Click ADD TO SHOPPING CART now for this Special BPMN BEST SELLER BOOKS BUNDLE.
Download both books immediately (10MB zipped file)
Total Retail: $114.95
HUGE 40% Discount!
You pay: $31.95 
You Save: $83.00 (which means you get the best-seller BPMN Modeling and Reference Guide for free).
Following the ground-breaking body of work in the BPMN 2.0 Handbook First Edition, this Second Edition is greatly expanded with substantial new content and chapters updated to the latest advances in this important standard.

Every chapter was carefully examined by its authors and updated to the very latest information with six completely new chapters and another 50 pages added!

** Detailed Table of Contents with full abstracts of each chapter here (9 pages PDF, no registration required)**

This book is for business people who want to understand the how and why of BPMN in simple non-jargon terms and the strategy and motivation for its adoption within the corporation.

It is also for the technical practitioner seeking current insights into the BPMN 2.0 standard and how to take advantage of its powerful capabilities.

Authored by members of WfMC, OMG and other key participants in the development of BPMN 2.0, the BPMN 2.0 Handbook brings together worldwide thought-leaders and experts in this space.

"The Business of BPMN section was especially useful and gave me insights into solid justification for using BPMN as a standard throughout my organization."

"....as an XPDL user, I found the details in the technical chapters were accurate and provided solid guidance - for example -- how to make a BPMN model executable. That was important information."

BPMN Modeling and Reference Guide
Understanding and Using BPMN
(includes Q&A)

THIS BOOK IS FREE with the BPMN 2.0 Handbook Second Edition Bundle.


The most popular book ever published on BPMN. If you or your organization is using or thinking of using, BPMN, this is the absolute best guide you could buy.

Currently in use by over 95,657 individuals, corporations, universities and colleges worldwide, with readership growing daily.

"It is an easy, yet excellent, introduction to BPMN."

"...much needed reference for our industry! Your book is well written, easy to read and presents the BPMN concepts in an easy to understand way.."

"If you are interested in a condensed BPMN overview for both business and IT people - this is the book for you. If you are looking for the best BPMN book around - this is also the book for you."

"... by far one of the best/easiest introductions to BPMN or any other topics I have seen in awhile."