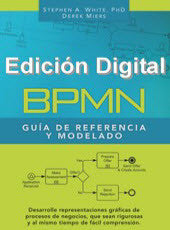 BPMN Edición en Español (Edición digital)
Retail Price : $ 49.95
Your Price : $ 39.97
You Save : 20 %
BPMN Edition in Spanish (Digital)
Note: This Digital Edition does NOT include the BPMN Modeling Templates. Click here for the digital edition in Spanish WITH FREE BPMN Modeling HandsOn Templates.
~~~~~~~~~~~~~~~~~~~~~~~~~~~~~~~~~~~~~~~~~~~~~~~~~~
Develop graphical representations of business processes that are rigorous but also easy to understand.



ISBN 978-0-9819870-3-3
Price: US $ 49.95 digital edition in Spanish
Spanish print edition ... is now available on Amazon.com BPMN Modeling and Reference Guide: Understanding and Using BPMN (Spanish Edition)

BPMN Edition in Spanish - Table of Contents
Sample Chapters in Inglés : Full Table of Contents, Chapter 4 Full and half of Chapter 5. (PDF 27 pages).
For this rendering 
~~~~~~~~~~~~~~~~~~~~~~~~~
Published by Future Strategies Inc .: the best-selling guide BPMN Modeling and Reference , is now available in an edition in Spanish for immediate download. In response to requests from the Spanish-speaking community BPMN fast growing, the book was kindly translated by Dr. Ing Juan J. Moreno and his team at INTEGRADOC and the Catholic University of Uruguay..
 
Price: $ 49.95
Printed edition in Spanish Buy at Amazon.com
All organizations are in an endless journey where the focus is on improving the way things are done (however that is measured) for the benefit of shareholders, customers and employees . This concept is at the heart of the Business Process Management (BPM); a way of thinking, a management philosophy focused on improving operational processes of the organization. The longer an organization has been traveling this road, more mature are your processes are more repeatable and scalable operations and better performance in general . In fact, the literature on management is full of examples of companies that have been on this path for a while-Dell, General Electric, Toyota, Nokia, Cisco, makes Federal Express are some of the examples. Whether you where you look it is easy to find any number of articles and books that recommend companies to incur operational innovation (in order to beat the competition). All these examples have one thing in common: retry emphasis on understanding the business processes of the company to improve them. One could argue that this is a fundamental principle of management discipline. Worldwide, virtually all businesses and organizations, people are struggling to communicate with each other to organize work in the best way.
Are questioning things like:
What steps are enough?

Who should perform them?

Should they stay with the company or outsourced?

What should be done?

What features are needed?

What results are expected and how they will be monitored?
Since the answers to these questions are provided to a particular situation without the sustenance of a commonly accepted description of the business process in question, they are often vague and confusing.
 
BPMN covers all these kinds of models and supports each level of detail required for proper description of the process. As such, BPMN is a notation based on flow charts to define business processes, from the simplest to the most complex and sophisticated to support the execution of processes.
 
As is standard BPMN notation, incorporates a large number of terms used in the description of the modeling process are of great importance. The translation team established as main objective the book was as understandable as possible for the Hispanic reader without changing its structure or content. A table at the end of the book contains references and descriptions of the original terms in English. The second objective was to make understandable translation book in most Spanish-speaking regions. English terms were carefully translated, since different regions are used divergently.


BPMN Edition in Spanish - Table of Contents

Price: $ 49.95 edition printed in Spanish
Buy at Amazon.com
 
The printed edition includes exercises and solutions.