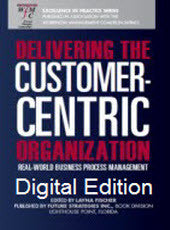 Delivering the Customer-Centric Organization (Digital)
Retail Price : $ 39.95
Your Price : $ 19.97
You Save : 50 %
Delivering the Customer-Centric Organization (Digital)
Click Here for Print Edition of this book
Customer-centric organizations are concerned about shrinking volumes of business, stiffer competition and increasingly demanding consumer expectations which have increased pressure on the bottom line.
The ability to successfully manage the customer value chain across the life cycle of a customer is the key to the survival of any company today. Business processes must react to changing and diverse customer needs and interactions to ensure efficient and effective outcomes.
Table of Contents and Overview
Foreword: Transform Business Processes Through Business Analytics
Clay Richardson, Forrester Research, USA
If you're reading this, odds are you're either knee-deep implementing an enterprise-wide BPM program, or you're exploring the potential impact and value of standing up a BPM program for your organization. If neither of these apply, then maybe you're just bored and figured, why not learn about a new and exciting topic. Regardless which bucket you fall into, at some point you'll come face-to-face with BPM's multiple-personality disorder. Although "analytics" is the new term du jour in the business technology world, it really has become the glue that ties the different BPM perspectives together.
Section 1: White Papers:
Customer-Centricity and Innovation
Staying Ahead of the Curve with Decision-Centric Business Intelligence
Sheila Donohue
Customer-related decision points which impact a financial services firm's performance are spread across the customer lifecycle, from acquisition through portfolio management and collections. These decision points which involve risk taking have traditionally been focused on credit risk management, while, as more recently seen from the financial crisis, are taking a more holistic view considering also operational risk requirements which emphasize the importance of more control and to quickly respond to market events and compliance demands. Having more information easily at your fingertips to monitor, measure and analyze performance in business processes which manage these points of risk taking decisions is essential to responding quickly and deftly to competitive and regulatory pressures.
BPM, Social Technology, Collaboration and the Workplace of the Future
John Flynn
For many customer-centric organizations, the last three years have been tough. Shrinking volumes of business, stiffer competition and ever more demanding consumer expectations have increased pressure on the bottom line. Companies have responded by reducing headcount, cutting back on unnecessary spending and 'making do' with existing IT systems and infrastructure. While these reactions have stabilized corporate finances and brought sighs of relief from shareholders, a siege mentality in the long term will not allow organizations to take advantage of the predicted 'better times ahead.'
Evidence-Based Service; Listening to Customers to Improve Customer-Service Processes
Vikas Nehru and Ajay Khanna
Every customer interaction, including sales and service, must reflect a company's brand. However, it is quite a challenge to measure the effect which customer service has on a company's brand. It is required that the customer service processes are aligned with the brand to ensure that the customers receive service which meets the expectations generated by the brand.
The company must possess the ability to measure the effect of each service interaction on brand perception and customer service KPIs. Some of these KPIs are easy to identify as they are based on interactions within the organization's self-service or agent assisted service processes. But the interactions that are happening out in the social media world can also tell a lot about the company and how it is perceived by the consumer. Companies today need to be able to establish KPIs related to social media or social-assisted service in order to remain a competitive brand in today's economy.
Predictive BPM
Dr. Setrag Khoshafian
Most businesses today engage in "predictions." Will a customer agree to upgrade a purchase based on an array of offers? What is the likelihood that a customer within a cluster of similar customers will default on a loan? How much more effective will a targeted marketing campaign be, compared to a random sampling? How can the churn rate of subscribers be improved? What is the likelihood that a particular financial transaction is fraudulent? These are some questions that could utilize prediction with concrete and tangible business benefits.
A "business" is a collection of policies and procedures. Almost every business policy or procedure has some aspect of prediction in it. Most of the time, policy and procedure requirements are based on intuition, best guesses, or business experience. Too frequently, no one in the organization can remember why certain policies were ever created in the first place.
Customer Experience Transformation—A Framework to Achieve Measurable Results
Vinaykumar S Mummigatti
The era of extreme competition is creating immense importance for customer experience and how companies manage their customers' expectations. The ability to successfully manage the customer value chain across the life cycle of a customer is the key to the survival of any company today. Most companies realize this but are struggling to measure and influence the customer experience. This paper is an attempt to look at various facets of customer experience and how to transform customer experience to achieve measurable business goals. Business Process Management and the convergence of technologies (such as Portals, web 2.0, BI, Content Management) are two key elements of this transformation and hence we will focus on how the convergence of various technologies led by BPM will help achieve the business goals around Customer Experience Transformation (CET).
Financial Crisis Front Line: SNS Bank
Eric D. Schabell and Stijn Hoppenbrouwers
SNS Bank, Netherlands, has made a strategic decision to empower its customers on-line by fully automating its business processes. The ability to automate these service channels is achieved by applying Business Process Management (BPM) techniques to existing selling channels. Both the publicly available and internal processes are being revamped into full scale Straight Through Processing (STP) services. This extreme use of online STP is the trigger in a shift that is of crucial importance to cost-effective banking in an ever turbulent and changing financial world. The key elements used in implementing these goals continue to be Free Open Source Software (FOSS), Service oriented architecture (SOA), and BPM. In this paper we will present an industrial application describing the efforts of the SNS Bank to make the change from traditional banking services to a full scale STP and BPM driven bank that can survive on the Financial Crisis front lines.
Intelligent, Automated Processes: Embedding Analytics in Decisions
James Taylor
The challenge of putting BI to work in business processes is that reports and dashboards only work in manual processes. If the process is automated, if straight through processing is called for, then the analytics required are different. Embedding these analytics in rules-based decisions is the ideal way to analytically enhance these processes and build intelligent, automated processes.
Building intelligent, automated processes requires that we understand the decisions in our processes. These decisions give us the points of control that we need and the places where insight might make a difference.
Section 2: Case Studies
Delivering the Customer-Centric Organization
Achievement Awards Group (Pty) Ltd.
Adaptive Case Management (ACM) is imperative in enterprises where the exception to process becomes the process! ACM, a topic widely discussed and analyzed by academics, professionals and IT specialists, is what is needed whenever processes must react to changing and diverse customer or client needs and interactions to ensure efficient and effective outcomes. This means that defined, rigid processes become responsive to circumstances that require fluid processes in order to address specific requirements.
Abu Dhabi Commercial Bank
Newgen provided the bank with a BPM-enabled workflow platform, which not only helped bank to automate its processes, but also allowed seamless integration of the BPM solution with its existing applications.
Abu Dhabi Commercial Bank (ADCB), with a strong presence in Consumer and Corporate is a leading provider of technology-enabled services. In its objective towards complete automation of processes, the bank was in urgent need for a solution that would enable end-to-end automation of their key business processes and also provide integration with its existing applications. Newgen provided the bank with a BPM-enabled workflow platform, which not only helped bank to automate its processes, but also allowed seamless integration of the BPM solution with its existing applications.
United Parcel Service (UPS)
Founded in 1907 as a messenger company in the United States, UPS has grown into a multi-billion-dollar corporation by clearly focusing on the goal of enabling commerce around the globe. Today, UPS is a global company with one of the most recognized and admired brands in the world, managing the flow of goods, funds, and information in more than 200 countries and territories worldwide. As the global leader in its industry, UPS continues to develop the frontiers of logistics, supply chain management, and e-Commerce.
To support efforts to improve operational efficiencies and drive customer service excellence, the UPS Shared Services group identified that a pervasive BPM platform for rapid application development and deployment would solve a laundry list of challenges. Utilizing BPM, UPS has improved workload management and resource planning, improved IT's ability to measure and manage SLA attainment, and optimized the cost-to-serve model, ultimately decreasing operating costs while increasing employee and customer satisfaction.
BAA Heathrow
At London's Heathrow airport, a new case is created by a system feed, every time an incoming plane is registered by air-traffic control, and closes when the plane is en route to its next destination. This event enabled case-management approach to aircraft turn-around has dramatically improved the overall efficiency of operations at Heathrow, including:
An increase in on-time departures from 68 percent to 83 percent,
A savings of 90 litres of fuel per flight, due to decreased time spent on the runway, yielding cost savings for airlines, and a positive environmental impact,
A projected increase in retail revenues, by allowing passengers on faster-boarding flights to spend more time in the terminal rather than seated in airplanes awaiting take off.
Los Angeles County Department of Public Social Services (DPSS)
With over 10 million people, Los Angeles County is the largest county in the United States. The Los Angeles County Department of Public Social Services (DPSS) currently serves over two million participants each day and a caseload of over 1.6 million across its various public assistance programs—more than any other jurisdiction except the states of California and New York. Even though the County has developed standardized processes and workflow, the unpredictability of people and the sheer volume of cases in Los Angeles create an often overwhelmed situation. It is the goal of the Call Center personnel, who are classified as Eligibility Workers, to determine individual benefits eligibility.
Lincoln Trust Company
This paper describes the experiences of implementing an enterprise wide BPM program at Lincoln Trust Company. The program was constituted in early 2007 with an initial goal of managing core processes related to physical paperwork and an ultimate goal of using BPM technology to manage all strategic processes of the organization. When the program began the company was receiving over 100,000 client documents each month with limited to no control over these instructions. Initial, overwhelming success with an enterprise wide implementation of BPM technology to workflow-enable document centric processes led to the strong desire of company management to move quickly to our next goals of understanding, improving, and automating other strategic processes. By doing so we've been able to open our back office process for collaboration with a strategic outsourcing partner, drive processes to the web, reduce costs and risks, improve customer satisfaction, and completely turn around a damaged relationship between IT and the business.
Nokia Siemens Networks
Nokia Siemens Networks was created in 2007 through the merger of the former Networks Business Group of Nokia and the carrier-related businesses of Siemens. Today, NSN is one of the world's largest network communications companies – with 60,000 employees, a leading position in all key markets across the world, and total sales of more than €15 billion a year. The Consulting and Systems Integration (CSI) unit within NSN is an organization of 4,000 staff, with sales of over €500 million a year.
CSI's particular business is an unusual mixture of high-volume/low-revenue engagements (i.e., consulting projects) and low-volume/high-revenue projects (i.e., major value-added service rollouts within large network implementations). The "mish-mash" tools landscape resulting from the NSN merger fundamentally did not meet the needs of CSI's dynamic business requirements. In addition, NSN's formation from two companies with, in many respects, polar opposite corporate environments created friction in operational execution. CSI desperately needed to get an established set of processes in place very quickly because without end-to-end visibility, fast and effective decision-making to drive the business was hampered, if not impossible. CSI looked to BPM technology to drive quick, highly-configurable, higher-value/lower cost process solutions to meet its business goals.
Swisscard AECS
The liberalization of the credit card market in Switzerland in 1997 paved the way for American Express and Credit Suisse AG to establish the joint venture company Swisscard AECS AG and to merge their credit card activities. Swisscard ideally combines the complementary strengths of the founding companies, with American Express being the global leader in card management and Credit Suisse providing strong national sales channels. On behalf of Credit Suisse, Swisscard offers the world-famous American Express card within Switzerland. It is thus the sole issuer in Switzerland with all three major brands (American Express, MasterCard and Visa) in its product portfolio.
UVIT–Financial Services
The Univé-VGZ-IZA-Trias group (UVIT) is a Netherlands-based insurance company. During recent years, the people of UVIT have been facing increased challenges from Internet insurance competitors. Because of this, a main objective was to automate outdated processes that were primarily paper-based. To do this, UVIT chose EMC Documentum xCP for the creation of a case management application to process claims. The xCP platform is seamlessly integrated with the UVIT capture platform to digitize all incoming mail, especially the vast quantity of doctor and hospital bills customers forward for payment. The system is used by UVIT service, field, and insurance agents, while in the office, at home, and on the road.
With the new xCP system, UVIT staff now has instant access to customer documentation, which has helped improve customer response rates as well as overall processing efficiency. The amount of case documents they are now able to process is also huge– about three million in 2010, and they expect that figure to reach 50 million in the near future.