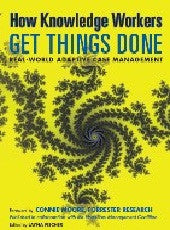 How Knowledge Workers Get Things Done (Print Edition)
Retail Price : $ 49.95
Your Price : $ 29.95
You Save : 40 %
How Knowledge Workers Get Things Done (Print Edition)
 Click Here for Digital Edition of this book
 Real-World Adaptive Case Management
Highly predictable work is easy to support using traditional programming techniques, while unpredictable work cannot be accurately scripted in advance, and thus requires the involvement of the knowledge workers themselves. The core element of Adaptive Case Management (ACM) is the support for real-time decision-making by knowledge workers.
How Knowledge Workers Get Things Done describes the work of managers, decision makers, executives, doctors, lawyers, campaign managers, emergency responders, strategists, and many others who have to think for a living. These are people who figure out what needs to be done, at the same time that they do it, and there is a new approach to support this presents the logical starting point for understanding how to take advantage of ACM.
Keith Swenson points out, "We are seeing a fundamental shift in our workforce, and in the ways they need to be managed. Not only are companies engaging their customers in new ways, but managers are engaging workers in similarly transformed ways."
In award-winning case studies covering industries as a diverse as law enforcement, transportation, insurance, banking, state services, and healthcare, you will find instructive examples for how to transform your own organization.
This important book follows the ground-breaking ACM publications, Taming the Unpredictable and Mastering the Unpredictable and provides important papers by thought-leaders in this field, together with practical examples, detailed ACM case studies and product reviews.
Get this book on Kindle 
 Contents
Foreword: The Process-Driven Business Of 2020
Connie Moore, Vice President and Principal Analyst, Forrester Research, Inc., USA
Thought-provoking research on how the business/IT relationship will change radically by 2020. One scenario already playing out is for business-facing IT staff, including relationship and project managers, enterprise architects, developers, and business analysts, to report into the business, creating a smaller IT cadre to focus on legacy renewal and modernization.
The Strategic Business Benefits of Adaptive Case Management
Max J. Pucher, Isis Papyrus
For over twenty years Business Process Management (BPM) has been used as a methodology to improve how a business operates. While that works well for certain processes on a smaller scale, businesses are facing the challenge that half their processes are knowledge-oriented in nature and thus unpredictable. Customer service processes may be simpler and more predictable, but they require a new dynamic for individualization. Overall, all processes should be derived from business strategy and its well-defined objectives and operational targets. Adaptive Case Management (ACM) offers comprehensive BPM functionality and methodology to meet those requirements.
How ACM Drives Better Customer Engagement
Dermot McCauley, Kofax, Inc.
Both routine and unpredictable engagement with customers is an essential part of many critical business processes including customer start-up, account maintenance, transaction management, service fulfillment, incident management, etc. Yet mobile, cloud and social technologies are increasing the power of customers and transforming how they participate with organizations. This chapter discusses the necessary role of adaptive case management in enabling more responsive, flexible and effective customer engagement in an era when the rising power of the individual demands a new architecture of engagement for customers and employees alike.
Case Management Forecast: Mostly PCM with a Chance of ACM
John T. Matthias, National Center for State Courts, United States
Knowledge work may primarily involve routine, repeatable work which constitutes production case management (PCM), but it may also involve problem-solving activities that would benefit from adaptive case management (ACM) capabilities in an application. Work which involves repeatable activities can be defined in advance and be supported by an application designed for volume use. Many jobs involve some amount of routine work but also some amount of problem-solving work. This chapter explores how can this non-routine work be supported.
Types of Business Process
Keith Harrison-Broninski, Role Modellers Ltd.
Many organizations struggle to improve (and support with technology) critical operational business processes due to poor understanding of the different types of business process. This paper categorizes business process types (and supporting technologies).
This paper also explains how to create a HIM Plan template as a set of Stages in which people play Roles to provide deliverables, and how to use a HIMS server, multiple HIMS servers and/or normal email to carry out a HIM Plan across professional, geographical and organizational boundaries.
Distribute Process Knowledge in ACM through Mentoring
Frank Michael Kraft, AdaPro GmbH and Hajo Normann, Accenture
In this paper we discuss two knowledge worker roles within organizations: The expert and the trainee. The expert is a long experienced knowledge worker that has a high grade of responsibility and needs more autonomy in his work. The trainee is relatively new to the organization or to the job and needs guidance and also supervision in terms of quality assurance.
The expert-trainee relationship within the organization is a generic pattern that occurs on many levels of an organization and many areas where knowledge work is done. It is the most important way how knowledge is passed on within organizations. It passes professional knowledge, but also procedural knowledge on to the other workers. It is the prerequisite to professionally delegate parts of work to others. The adaptive case management system affects this work relationship.
The paper discusses how the system supports this knowledge transfer and delegation and how this leads to a mid- to long-term advantage of the organization that uses it.
Managing Structured and Unstructured Processes Under the Same Umbrella
Alberto Manuel, Process Sphere, Portugal
There are some companies, highly coupled with structured processes and others where there is a lot of unstructured execution to provide a solution to a customer. Both realities coexist. This means that not everything is black or white and sometimes is grey. BPM as a management discipline must have the capabilities to manage both realities blended together, but alsoto embrace the unstructured paradigm.
Natural Language Processing, BPM and ACM in Healthcare: Memoir of a Radio Interview
Charles Webster, MD
Two great information technology industries, health IT and workflow IT, increasingly overlap. Traditional health IT (HIT) has solved many healthcare information management problems, but not others, especially involving complex processes and workflows. Over several decades business process management (BPM) and case management systems have had great success automating workflow and supporting problem solving that requires human interpretation, creativity, and guidance. Nonetheless, within the BPM community a debate has raged over where and what to automate and how to support Drucker's "knowledge worker." These issues, and their resolution, are central and critical to a parallel debate within healthcare about usability of electronic health records (EHR) and HIT and effects on physician productivity and patient safety. The BPM and adaptive case management debate is reviewed and lessons drawn for creating efficient, effective, and flexible EHR and HIT workflows.
Case Management Megatrends
Nathaniel Palmer, WfMC
This chapter explores the role and interplay of case management within today's most critical emerging information management megatrends, notably mobile, cloud, big data, social technology, as well as the 'appification' or consumerization of IT. Also explored is how Adaptive Case Management (ACM) both builds on, yet is differentiated from other contemporary technologies targeting knowledge worker support, specifically BPM, ECM and CRM.
Case Management: Contrasting Production vs. Adaptive
Keith D. Swenson, Fujitsu America, Inc., and WfMC
There are a variety of subcategories of BPM technology -- possibly as many as seven distinct specializations. Two of these are useful for supporting knowledge workers: Production Case Management and Adaptive Case Management. What is the difference? While PCM is developed like a traditional application at design time, and later deployed to workers for use at runtime, ACM has no design-time distinct from run-time. PCM makes use of traditional programming practices of modelling and web service integration, while ACM eschews programming of any form and turns instead to an incremental direct manipulation approach. While both share the term "Case Management" there could hardly be less similarities between the two approaches and an understanding of how different they are is critical in avoiding costly implementation mistakes. This chapter will compare and contrast PCM with ACM to clarify the distinctions, and will use examples from the three PCM case studies that won a mention in this year's awards. The result is that you will be armed with criteria that can be used to distinguish which kind of Case Management a vendor is presenting to you, and also a set of criteria to determine for your own situation what kind of Case Management you need.
Section 2: Case Studies
Cognocare, an ACM-based System  for Oncology
Gold Award: Healthcare
This work describes the use of ACM technology, implemented by means of an Artificial Intelligence Planner and Scheduler, to help physicians handle the process associated to the treatment of their patients. The lessons learned come from pediatric oncology treatments due to the previous experience of the company, but they may easily be extrapolated to general oncology or even general practice like the case of chronic disease patients.
Vision Service Plan (VSP)
Silver Award: Healthcare
Vision Service Plan (VSP) provides high-quality, cost-effective eye care benefits and world-class products and services to eye care professionals, employers, and more than 56 million members. The integration of the OpenText Case360 solution with the Customer Care Portal significantly improved customer service quality by simplifying the creation and processing of critical documents including claims adjustments, complaints, doctor inquiries and fraud alerts while providing over $700K in annual savings on business operations. Additional cost savings are expected as more task types are added.
Generali Hellas Insurance  Company S.A.
Gold Award: Customer-Facing
Generali Hellas Insurance Company S.A. has become successful largely by making itself the company of choice for agents through its exceptional service. To advance this offering and to streamline processes throughout the company, Generali sought and implemented an enterprise system with the capacity to integrate new and improved workflow processes.
The new system, named Thesis, resulted in several improvements. Case handling is now more flexible, with two distinct tracks—one strictly defined for straightforward cases, the other adaptable for cases that are less well defined. Agents gained insight into the policy application process and the ability to respond quickly to underwriter questions and requests. Underwriters and claims handlers, in turn, spend more time doing pure underwriting and claims handling than "paper pushing" and other work unrelated to their core competencies. The company's ability to respond to regulatory requests was greatly improved. In addition, paper and printing costs were dramatically reduced.
Fortune-500 Bank, India
Silver Award: Customer-Facing
This case study is about one of the leading Fortune 500 banks from Asia Pacific. Having started operations in India in 1853, the bank has steadily grown in reach and service offerings, keeping pace with the evolving banking and financial needs of its customers.
The bank wanted to automate its Customer Request Management process in India. All the different types of customer requests, complaints, queries, interactive phone calls needed to be processed and routed to the right customer executives (Front/Back Office) based on their skill metrics, experiences and availability. The solution had to be flexible and robust enough to support the growing customer base and different request types.
More than 3000 users (Front Office and Back Office) are using the Request Management Solution with various roles assigned to them. According to the request type, the request management solution auto-disseminates tasks amongst those users.
Paneon GmbH, Austria
Gold Award: Knowledge Worker Innovation
Paneon GmbH is a two-year old startup located in Austria and currently serving the German-speaking markets of Austria, Germany and Switzerland.
As a Network marketing business with a large, decentralized structure of individual sales partners providing contacts to customers, building sales and business relations from informal community relations Paneon faces a number of challenges:
How to deal with growing and the related rising complexity?
How to adjust to growth without creating bureaucracy?
How to quickly adapt to market pull without software development?
How to stay focused on people and support more engagement?
How to manage a business with independent individuals?
UWV, The Netherlands
Judges' Choice Award: Knowledge Worker Innovation
UWV, a Dutch organization delivering employee benefits to Dutch citizens, has been using process management systems from their current vendor since 2001. The system was completely renewed and upgraded to a new version early 2012 to improve the customer experience of a UWV customer that objects to an earlier decision of UWV. These objections are handled by the 1,250 employees of the Objections and Appeals division of UWV.
According to the knowledge workers themselves, their new adaptive case management system offers them the possibility to live up to their customer's expectations. Now they can choose the optimal process path for an individual customer, helping them meet deadlines by giving them access to all necessary information in a structured and efficient way.
MATS Norwegian Food Safety Authority, Norway
Gold Award: Public Sector
The Norwegian Food Safety Authority's (NFSA) overall objective is to ensure safe food and animal welfare. NFSA's area of responsibility comprises plant health, food and fodder production and handling, water supply plants, cosmetics, animal health and welfare for production animals and pets. Since 2009, about 1000 of NFSA's knowledge workers (veterinarians, biologists, engineers, other professionals) use MATS actively as a decision support system for the main bulk of their professional work; to plan, conduct and register audits. The public (farmers, restaurants, food production plants, food shops, fish exporters, plants importers, butcheries, pet owners) use MATS to register, apply, and view their own case information, resulting in 150 000 communications per year.
QSuper, Australia
Silver Award: Public Sector
QSuper is the superannuation fund (a retirement program in Australia) for current and former Queensland government and related entity workers. As one of Australia's largest superannuation funds, QSuper provides members with access to an extensive range of tools, information and services designed to help members grow their super.
Operating in a highly competitive and dynamic financial services environment, QSuper manages more than $30 billion in funds for over 540,000 members and is committed to working with its members so they can feel more confident they are making the best choices for their situation. QSuper Limited undertakes the daily administration of QSuper and has more than 600 employees.
State Office of Children and Family Services, USA
Special Mention: Public Sector
The Criminal History Review Unit (CHRU) of a State Office of Children and Family Services (OCFS) helps process Daycare and Foster Care applications by collecting and reviewing criminal history review data. The CHRU was experiencing increased workloads and mounting storage needs, and the processing of applications was manually-intensive and inefficient.  The goal of the case management solution was to implement an automated workflow system to minimize the physical handling of the applications and streamline the overall business processes. The solution enables users—Criminal History Raters, Criminal History Reporting staff, Criminal History Analysts, and Record Keepers—to securely and reliably expedite application processing while meeting legal requirements for processing background checks, enabling validation and audits.  The case management platform provides an integrated system that supports processing, maintenance, and distribution of criminal history reviews so that state staff can respond accurately and efficiently.  It also provides interoperability with the applications from other agencies and departments.
Touchstone Health, USA
Finalist: Production Case Management
Touchstone Health faced a momentous challenge with their current Appeals and Grievances (A&G) process. Touchstone was managing 1,500 A&G cases per month through a largely manual case management process. In addition, regulatory compliance requirements required timely and auditable records be provided to avoid potential fines.
The primary users, the A&G case managers, were dealing with a highly manual process that required data gathering from multiple systems and departments. They had to manually reconcile all reporting, and manually generate and track the required correspondence and deadlines. Additionally, the case managers often lost visibility and control when assigning cases throughout the organization.
Touchstone Health adopted a new Adaptive Case Management approach that greatly improved the productivity of the company's knowledge workers and ensured compliance to regulatory requirements. The ACM approach provided an automated system that ensures all correspondence is automatically sent and meets regulatory timing requirements.
New York State Department of Financial Services (NYSDFS), USA
Finalist: Production Case Management
Today, the State of New York has over 300 government personnel (including specialists, supervisors, case workers, and investigators) working across multiple departments, dispersed offices, traveling to remote locations, and interfacing with numerous third-parties to investigate insurance complaints against insurers. Thousands of external system users are also connected through the web portals. These stakeholders operate within: Complaints Processing, Investigations, External Appeals, Insurance Companies, Customers, Property/Casualty, Health, Legislative, Life, Continued Education, and Auto Bureaus.
The Eccentex Adaptive Case Management Solution provided key benefits to NYSDFS.
Appendix
ACM glossary
About WfMC
Index
Further reading recommendations